ATHENS

FOLK ART MUSEUM

The Tzami in Plateia Monastiraki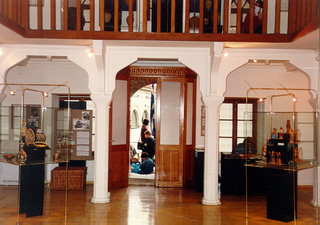 The Tzami in Plateia Monastiraki was built in 1759 by the current Voivode of Athens, Tzisdaraki. Formerly it was called the Tzami of the Lower Fountain, from the fountain nearby, and the whole district was known as Kato Pazari.

After the founding of the Greek State, the Tzami was used for various purposes (barracks for the army band, prison, storehouse). In 1915 it was restored by Anastasios Orlandos and in 1918 it housed the Museum of Greek Handicrafts, which had just been formed.
Please share your opinion of it with other travelers. Write a review!