ATHENS


Folk Painting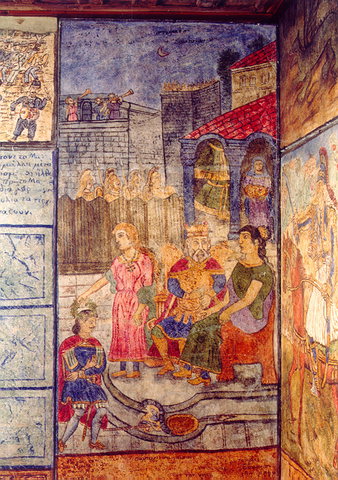 Folk painting is represented by secular and religious works. Among known folk painters the self-taught Theofilos Hatzimichail (1868-1934) painted people and events from mythology and from modern, recent and ancient history, as well as symbolic scenes, landscapes, scenes of everyday life and portraits. He drew his inspiration from the national historical past, copied European postcards and illustrated popular publications, or from direct observation of nature. His painting, with its two-dimensional conception of place and perspective and his free personal use of colour, was accompanied by written comments explaining and elucidating the picture.

Theofilos Room (view), a work of the 1924-1930 period by the folk painter Theofilos Hatzimaichail, which decorated the the best room in a house on Lesvos.
Please share your opinion of it with other travelers. Write a review!