ATHENS

FRISSIRAS MUSEUM

The buildings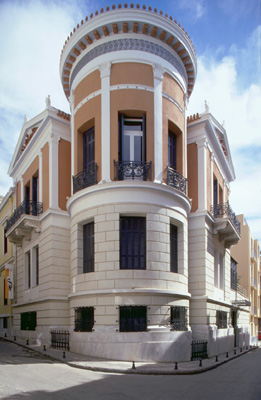 The building at No. 3 Monis Asteriou Street is one of the first neoclassical houses of Athens. Built in 1860, it was restored to its original form with minor interior alterations by the Frissiras family in 1998-99. It houses the Vlassis Frissiras Collection.

Construction of the building at No. 7 Monis Asteriou Street began at the turn of the 20th century, and it was inaugurated in 1904. The architect, whose name remains unknown, was a student of Ernst Zillerís. It is among the most important neoclassical examples in Athens, with Ionian-style elements, listed as a late historical monument by the Ministry of Culture. It was fully restored by the Frissiras family to its original form internally and externally in 1999-2000. The building houses exhibitions of Greek and European artists.

The architectural design for both buildings was carried out by architect Nikos Hatzikiriakos.
Please share your opinion of it with other travelers. Write a review!